27 Unique Places to Visit in Mexico
Are you looking for unique places to visit in Mexico? You're at the right place because here we have a list of 27 amazingly beautiful destinations you can hit during your exciting Mexican adventure!
It's hard to cover all of them because we're talking about a pretty big country with numerous hidden gems across the land. However, this list might give you some cool ideas you can perhaps add to your travel itinerary.
Whether you're a nature lover who's more into the calming atmosphere, an adrenaline seeker, or simply prefer to enjoy the magical vibes of stunning Mexican cities, we are sure you will find something for yourself. Well, let's get going then!
1. Grutas de Tolantongo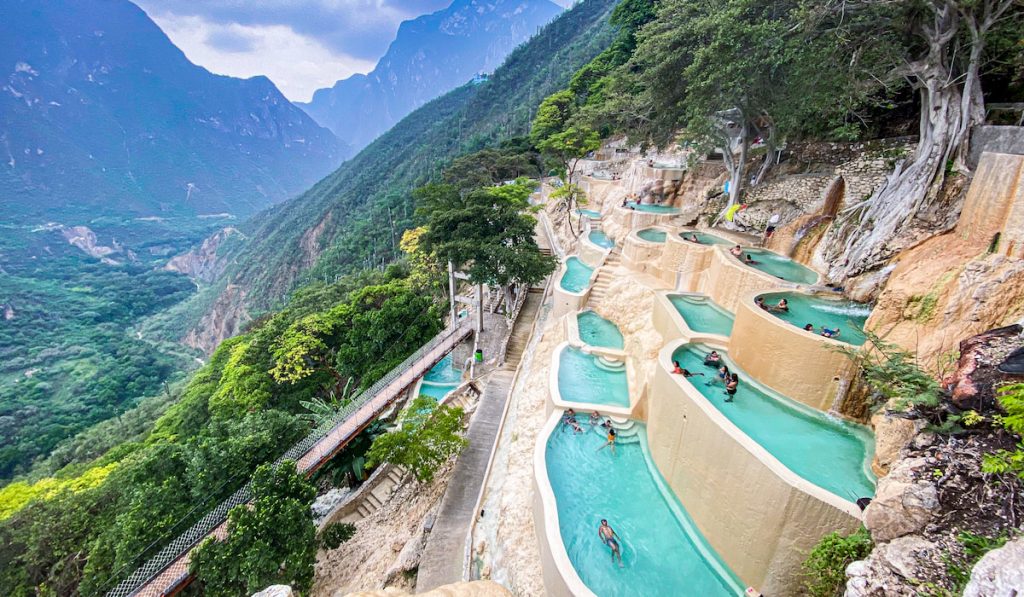 The Tolantongo Caves are an amazing natural paradise and a true gem hidden in the remote mountains of Mexico. The resort is also a great spot for vacationers and photographers who want to relax and enjoy some breathtaking views.
The place is pretty popular and often packed by local visitors, so the sooner you get there (in the morning hours), the more you'll be able to enjoy its peaceful atmosphere.
This astonishing set of natural caves is set north of Mexico City and surrounded by hot pools and springs.
They are tucked between lush trees and immersed in a canyon that goes across a turquoise river of hot water. One of the best things is definitely an entrance hidden beneath beautiful falls.
The entire place is formed of numerous stalagmites and stalactites. Since it's hidden in mountains, you will need a reliable car and around 5 hours to get there – if you're starting your tour from Mexico City.
However, it's definitely worth it!
The Tolantongo Caves in Mexico leave plenty of room to discover natural beauty, relax, and enjoy a peaceful atmosphere far away from the hectic pace of the modern world.
2. Tulum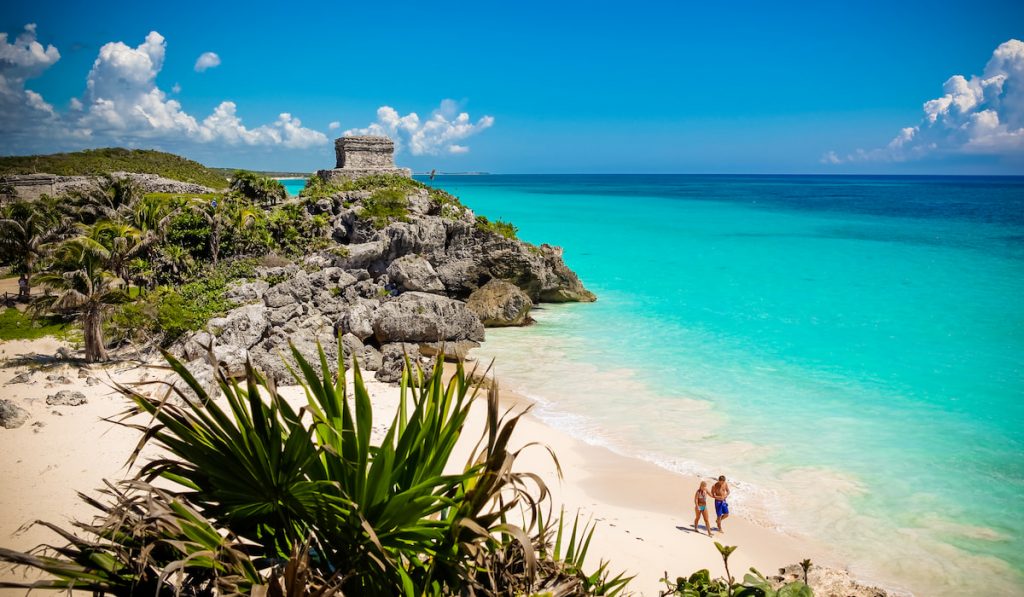 If you're actively gathering information and planning a trip to Mexico, there's no way you haven't heard of Tulum!
Tulum is a true pueblo magico, which means one of the towns Mexican government recognized for their "magical" qualities, whether that be interesting legends, great beauty, or rich history.
Tulum is located in the Quintana Roo state (Yucatan Peninsula). Like numerous places in Mexico, this was also once a backpacker's destination with plenty of street food stands and cheap hostels on the beach.
Even though it's still possible to visit it on a budget, today's Tulum is one of those chic, Instagram-friendly destinations with a luxurious feel.
There are many things you can do there, like swimming in Tulum cenotes, exploring the mysterious Tulum Ruins, and renting a bike to explore Tulum Town (also known as Downtown Tulum).
Besides dynamic activities, you can always head to Tulum Beach to take a dip in the crystal clear Caribbean Sea.
3. Hierve El Agua
Hierve El Agua is a spot well-known for the petrified waterfall, colorful mineral formations, and majestic cliff-side infinity pools.
This specific landscape happened because of water rich with minerals such as magnesium, calcium, and sulfur. As it was bubbling from the middle of rocks, the water was calcifying for millions and millions of years and eventually turned into a petrified "waterfall" – which is one of the only two such waterfalls in the whole world.
The water comes from the springs that are still active. Also, the main area consists of two infinity pools with a magnificent mountain backdrop.
In Hierve El Agua, you'll be able to enjoy amazingly beautiful views since the place lies on top of a mountain. Because of this, we're talking about one of the best places in Mexico for photography lovers, especially if you want to capture some breathtaking moments such as sunsets over infinity pools.
4. Las Posza: Xilitla Surrealist Gardens
Edward James's Surrealist Garden, or simply called Las Pozas, is a magical place set in Xilitla, which is the rainiest area of the surroundings.
Edward James was a surrealist artist born in 1907 to a rich British family. His enormous wealth got him the best education and freedom to choose whichever path he wanted – which eventually turned out to be the artistic world.
In 1944 he took a trip to California, where he wanted to create his very own private paradise. However, before getting there, he discovered Mexico and decided that would be the place where his dreams would come true.
He inspected numerous beautiful places and finally chose Las Pozas. The name actually implies a large number of waterfalls and natural pools located in an area brimming with pure natural beauty and subtropical vegetation.
Las Pozas is a perfect place to get lost and discover a peaceful, dreamy land in the magical country of Mexico.
5. Taxco
Taxco de Alarcon, also known as Taxco, is definitely not the most common place on the main tourist trail. It's actually a former silver-mining colonial city, located in Guerrero, Mexico.
In fact, it's been considered as Mexico's silver capital, even though it doesn't have as many resources as it used to.
However, you'll see plenty of silversmiths still there, patiently plying their trade even today. They own workshops where they create art pieces and silver jewelry.
Most of those silver workshops are reputable and have a wide variety of unique handcrafted pieces or appealing mass-produced souvenirs the majority of tourists usually buy. As a matter of fact, many visitors come from far and wide to get the top-notch sterling silver jewelry and trinkets in this beautiful place.
The price of these items is determined by the weight and the quality of the silver.
Taxco is a soulful destination, also specifically because of its astonishing Spanish colonial architecture, steep cobblestone streets, and striking rust-red roofs mixed with romantic bougainvillea flowers.
6. Tak Bi Ha Cenote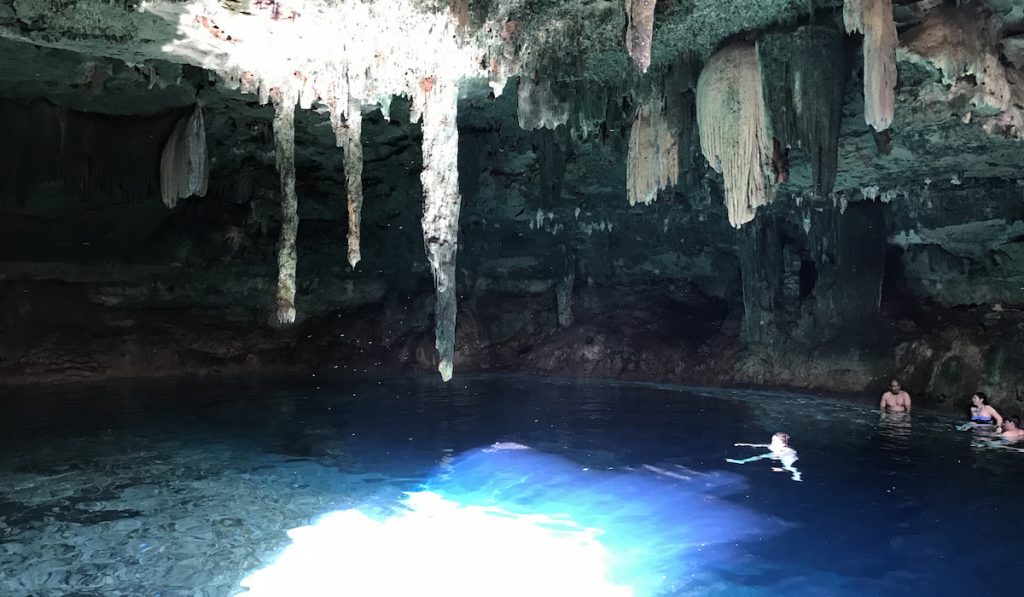 Cenote Taak Bi Ha will give you a great chance to fall in love with snorkeling in mysterious caves – if you haven't already.
Generally speaking, cenotes are holes in the jungle, filled with fresh water. There are cave cenotes and open cenotes.
This kind of categorization is based on the age of the cenote. The oldest ones are those that are fully open, while the youngest ones are cenotes that preserve the dome of limestone.
Cenote Taak Bi Ha is one of those from the second, younger category. It has a small entrance that leads to a big room, a huge dome with numerous magnificent formations of stalagmites and stalactites.
While in cenote Taak Bi Ha, you'll get to enjoy a peaceful environment and the specific energy such natural places have. This place offers a unique underwater experience and truly comes as one of those perfect getaway locations that remind you there are so many amazingly beautiful gems on this world yet to be explored.
7. Bacalar
Picture a dreamy lagoon with incredibly blue water, soft sand under your feet, palms, and nothing but the sun and a clear sky above you.
Of course, the entire Caribbean coast provides you with numerous beaches with such ambient – but lagoons in Mexico bring that extra peaceful, paradise vibe.
Bacalar is definitely one of those places; "laguna de Los Siete Colores", is a large expanse of shallow water, with white sand under your feet.
Bacalar is a lake whose seven shades of blue range from deep cobalt to amazingly bright turquoise. This area is part of a bigger lagoon system that's connected with the Chetumal Bay through the Chaac estuary and Hondo River. It's around 34 miles (55 km) long.
In this lagoon, there are parts with pools where you can dive pretty safely considering how shallow the water is.
Also, you'll easily find accommodation since there are some private residences and hotels. However, the place mostly gets crowded during the holiday season or on weekends.
Coupled with all that beauty, in Bacalar lagoon you can see an ancient population of stromatolites that are more than 3 billion years old.
8. La Coloradas (Pink Lake)
Pink Lake is definitely one of those unique spots that all Instagram lovers will enjoy. It's an impressive place full of color and hidden on the tip of the Yucatan Peninsula.
This name 'La Coloradas' is also for the small Mexican fishing village you'll find there. It has a population of only 1000 and it's located right nearby a series of cotton-candy pink lakes.
Why is 'La Colorades' pink? The lake actually got its unique color due to brine shrimp, plankton, and red-colored algae that live there.
It's a salty environment. Once the water begins to evaporate, organisms that live there get more and more concentrated. The result is an impressive pink shade under the astonishing Mexican sunlight.
This area is part of the Río Lagartos Biosphere Reserve, a wetland that extends on 150,000 acres and is protected by law. There you can see some pretty cool animals such as crocodiles, jaguars, flamingos, sea turtles, and many different kinds of seabirds.
Here's an interesting fact – flamingos are also pink because they feed on all those pink creatures we've mentioned above. They would usually be white, but due to the food they consume, their color turned into cotton candy pink.
9. Island of the Dolls (La Isla la Munecas)
Island of the Dolls is definitely one of the most popular attractions tourists tend to visit. The interesting thing is that place itself was never meant to become one of the tourist destinations.
In fact, there's a sad story behind the place with hundreds of terrifying dolls hanging from the trees. It all started with Don Julian Santana, who was the only inhabitant of this island.
Around 50 years ago, he came across the body of a child in the canal. He realized that the poor girl had drowned and, ever since then, he was haunted by her death.
The part with dolls began when he saw a doll floating by the canal. He took it and hung it in a tree. Somehow he was hoping that would protect the girl's soul from further evil.
Pretty soon, he started thinking about bringing more dolls because, for him, one wasn't enough to ease the girl's soul. He continued bringing more and more dolls he'd found around the island.
His family later revealed Don Julian always believed that the island was haunted by the girl's spirit. For this and maybe some more reasons, he believed that hanging these dolls in the trees will make the soul of the lost girl be happy and at peace.
If you like watching horror or thriller movies, you'll especially be impressed if you come during the night – when the whole place looks haunted and has a pretty creepy vibe.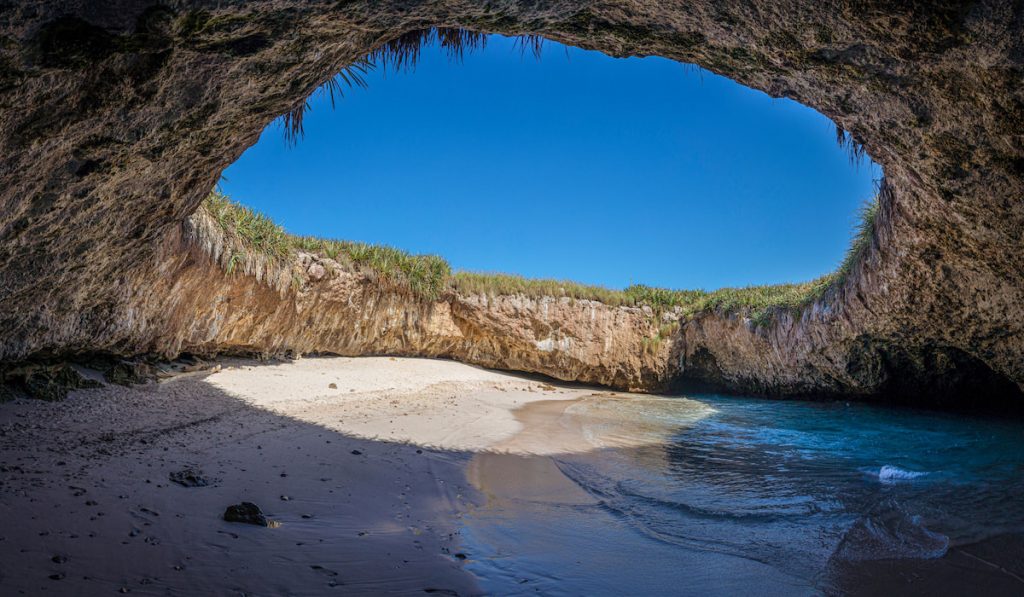 You've probably seen photos of this magnificent hidden beach somewhere on the internet, without even recognizing its name or knowing its real location. Well, you can reach it from Punta de Mita, Nayarit, or from Puerto Vallarta, Jalisco – and it's totally worth it!
Another name for this beautiful island is a bit more romantic – Playa del Amor.
"Beach of love" is an astonishing sandy cavern on one of the islands that make up Marietas.
Marieta Islands actually stands for a group of islands formed under the surface of the water. They are a result of volcano eruptions.
It's a pretty cool and fascinating place that looks like a part of some fantasy novel.
The area doesn't have any inhabitants and is accessible by boat. In fact, you'll come across numerous offers for daily excursions you can book from the local tour companies.
Still, the number of tickets to Marieta Islands is limited, so, if you're planning to go there, it would be better to book the trip a couple of days in advance.
11. Huasteca Potosina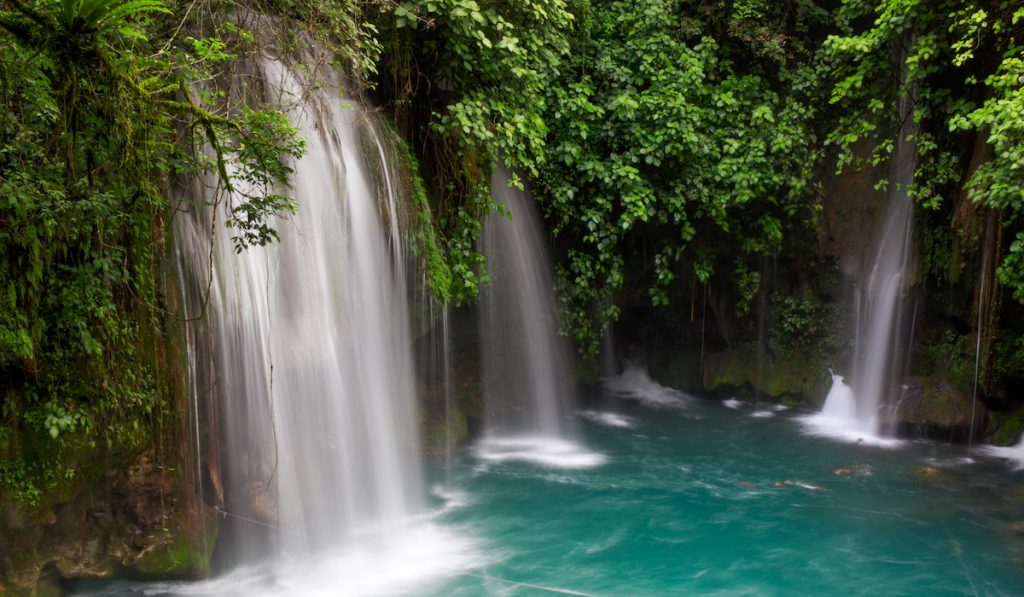 The Huasteca Potosina is a place set within the state of San Luis Potosi, which is northeast of Mexico City. It's actually a part of the larger region of the Huastecas.
The Huastec civilization was a pre-Columbian civilization of Mesoamerica, which is a historical region in North America. They occupied land on the Gulf Coast of Mexico.
The Huasteca Potosina is a region that presents a lot of various vegetation, forests, jungle, canyons, caves, natural pools, and incredible waterfalls. It's a natural paradise with wide biodiversity, perfect for travelers looking for adventures and unique beauty.
This region is specific because of its great cultural diversity as well. The culture was formed by groups of over 250,000 dwellers speaking tenek, náhuatl, and pame. They all have origins in the Maya culture.
One of the extraordinary things the culture of this area brings is the musical combination of guitars, violins, and jaranas called huasteco or huapango.
If possible, try to stay there more than just one day.
12. The Giant Crystal Cave
Moving on to another beautiful gem you should visit while in Mexico – the Giant Crystal Cave.
The Giant Crystal Cave is a home for numerous big crystals, hidden in a cave by the Naica mine in Naica, Chihuahua. To learn more about this magnificent spot, we need to go back to the 18th century.
Back then, silver was widely used and worth a lot of money across Mexico. At the beginning of the 20th century, mining was quite popular as well. The Naica mine was closed in 1911, which was also the period when people discovered the Giant Crystal Cave.
Ever since they found it, people knew this fascinating cave to be a pretty spectacular natural discovery. They knew they'd have to keep the environment in that area safe, which is why the cave is now protected by law.
As the name implies, some of these crystals you see there are huge – they can weigh over 50 tons. The view you'll get there is amazing -we could definitely call it a once-in-a-lifetime image.
On the other hand, you can't go near the crystal without special equipment. The average temperature in the cave is 113°F (47°C), while humidity levels are close to 100 percent. Such conditions make it inhospitable to humans.
13. Teotihuacan Pyramids
Teotihuacan is an impressive archaeological complex you'll find in another pueblo magico – San Juan Teotihuacan, in Mexico State, right outside of Mexico City.
It's a historical spot you can easily access – which means this could be one of your best daily trips from Mexico City, no matter which time of year is it.
Here we're talking about one of the best-preserved pre-Columbian cities. Therefore, Teotihuacan was formed before the Aztecs arrived in Mexico, but numerous constructions are still standing there today.
It's a UNESCO World Heritage Site and definitely one of the most popular places you can see in Mexico. What attracts most people are the Teotihuacan pyramids which are different than the Chichen Itza Mexico pyramids (Yucatan Peninsula) because you can actually climb them.
Take your time and explore the Avenue of the Dead. You can also search through different ruins and temples. For example, there's the Temple of Quetzalcoatl, one dedicated to Quetzalcoatl (you pronounce it: ketz-al-coe-uh), to the most important god of their culture.
14. National Museum of Death
Have you considered spending some of your time learning about history and facts about death?
It may not be something you've included in your plan in the first place, but a trip to Mexico may be a great chance to do that.
Mexico is not only specific because of numerous natural wonders. It also has an impressive historical background and rich cultural heritage that includes multiple fascinating museums.
One of those you should definitely visit while in Mexico is the National Museum of Death. It's been opened to the public since 2007, and you'll find it in the city of Aguascalientes.
The National Museum of Death is a pretty fascinating place with a permanent collection of numerous death-related pieces and artifacts.
When there, you will be able to see real proof of the history of death, starting from the pre-Hispanic era. The collection includes plenty of historical artifacts, funeral arts, and death iconography items. Everything you see is, of course, related to Mexican culture.
15. Quetzalcoatl Snake Hotel
Have you ever wondered how it would be to sleep in the belly of a giant snake? Even if the answer is 'no', a trip to Mexico is a great chance to try that.
In other words – if you're looking for some unique type of accommodation you've never seen before, Quetzalcoatl Snake Hotel is definitely a place to be!
The entire idea for this hotel is based on the mystic serpent god Quetzalcóatl. He is a mythic figure from Mexican culture, known as a god of wind and air. He's a figure from Aztec legends, and stories about Quetzalcóatl are mostly related to the area north of Mexico City.
In fact, the hotel itself is only half an hour from Mexico City.
The hotel was built in 2006 by the Mexican architect Javier Senosiain. When he first saw the cave it reminded him of a snake's mouth. He checked the inside of a cave and it kinda reminded him of a snake coming in and out of the mountain.
Through the years, he developed his idea and designed one of the most specific hotels in the world.
16. Underwater Museum (MUSA)
Are you a fan of the underwater world and diving? If the answer is 'yes', this next destination is going to especially be a treat you've been looking for – the Underwater Museum!
It's basically like visiting any other museum – you're moving around and admiring some appealing pieces of art. The only difference here is it's all under the surface so you'll pass through some pretty exotic fauna and mystical underwater surroundings to get a chance to see the museum.
The purpose of the Underwater Museum (MUSA, or "Museo Subacuático de Arte") is to divert a big group of ocean divers. The idea came when scientists started to worry about divers disrupting the balance of fauna of the rich underwater world.
They decided to seek the best method to keep the disrupted coral reefs safe. Once they made a plan, they invited British Sculptor Jason de Caires Taylor.
He came with a couple of Mexican artists and started dropping the 500 statues off into the ocean. These statues are made of pH-neutral marine concrete so they wouldn't get damaged in the water.
Visitors who come to the Underwater museum can see three galleries that showcase various themes. Each in its very own way, these galleries reflect the interesting nuances of the fishing world.
This incredible submarine museum is one of a kind – it stands there as a balance between mankind and nature.
17. Suytun Cenote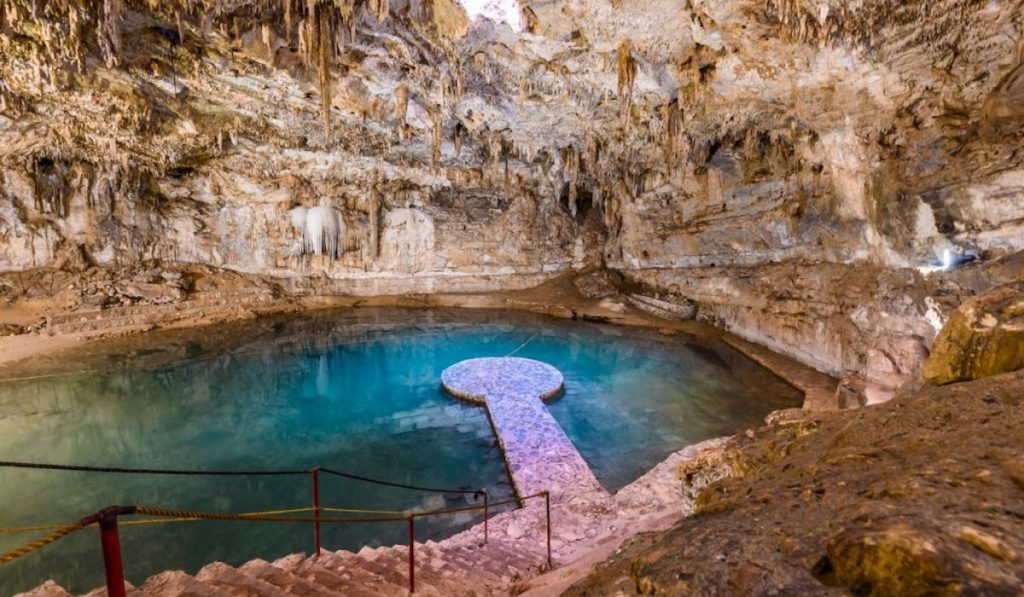 Yucatan region is famous for numerous cenotes – it has more than 6,000 of them. With such a huge number to offer, it can be hard to choose which one you should visit within the limited amount of days you spend in Mexico.
We're sure you won't be disappointed wherever you go in this magical country. However, if you want a truly incredible spot that kinda stands out above the others, hit Suytun cenote.
The Suytun cenote is a one-of-a-kind attraction in Mexico because of its walkway leading down the center of the cenote itself.
To be precise, the cenote is completely underground, and the only way light can enter the space is through an opening in the ceiling.
If you're there at the right, you will see a light shining down towards the walkway. This creates a magical, kinda dazzling light beam. If you're in Tulum or Cancun, you can reach this spot in 2 hours.
To get here, you can either sign up for one of the many tours with agencies or, if you want to avoid crowds, try to go on your own.
18. Playa Balandra in La Paz
Vamos a la playa! It's always a good time to hit the beach and enjoy a calming atmosphere and beautiful tropical surroundings – especially when you're somewhere near playa Balandra.
Mexico has numerous stunning beaches, which is something many tourists recognize so the most popular ones are often going to be really crowded.
On the other hand, there are less-traveled beaches for those who prefer a more peaceful atmosphere, and Balandra is an excellent example.
Playa Balandra in La Paz is a magnificent spot where most local people go, because of the wild nature and crystal clear water.
Most tourists that visit this area will fly into the Manuel Marquez de Leon International Airport and find accommodation in La Paz. Some, on the other hand, fly into Cabo San Lucas International Airport and go to La Paz after a couple of fun days partying in Cabo.
You can enjoy swimming or go for more dynamic activities such as paddleboard or kayaking.
19. Isla Aguada in Campeche
Nothing can provide you better vacation like wild nature and the astonishing surrounding of the Caribbean islands. Campeche is one of the most charming non-touristy areas you'll find on the Mexican coast.
When there, you'll get a chance to enjoy quiet cenotes, less traveled beaches, and amazing nature. Isla Aguada is definitely one of the highlights of Campeche.
We're talking about a small fishing port with around 5,000 inhabitants. The island is located between Ciudad del Carmen and Sabancuy as well as surrounded by Terminos Lagoon and the waters of the Gulf of Mexico.
Isla Aguada brings cool beach town vibes, together with turquoise clear blue water and unspoiled sandy beaches. If you're looking for a peaceful vacation with no street vendors or crowds bigger cities bring, this is a perfect vacay destination you'll certainly have great memories of!
20. Tequila
Tequila is a spirit made in Mexico and is rather popular all over the world. To make it to the category of tequila, a spirit needs to be at least 51% made from blue agave. The rest is mostly derived from some other neutral spirit.
However, we're not here today for the drink, but for the town of the same name.
Tequila is a Mexican town, located in the state of Jalisco, which is the middle of the region known for producing the popular spirit. It's actually the place this alcohol got its name from.
Tequila is not one of those towns tourists tend to put on their must-visit list. People mostly stay in Guadalajara, unless they know about special tequila train tours from Guadalajara to the town of Tequila.
The ride offers tequila tastings and some nice mariachi music. Also, you'll be able to enjoy a beautiful view of fields of blue agave. While there, you can learn how to cultivate agave bushes, ride horses, or even spend the night at a big tequila barrel in the field.
21. Guanajuato
Guanajuato is one of the most beautiful cities in Mexico as well as a place you easily fall in love with.
It has numerous bars, cafes, art galleries, and markets. The best way to explore it is while aimlessly wandering its charming streets.
They're pretty narrow, which is why walking is definitely a better option than going around by car. In fact, the city itself is pretty unique because of a network of underground tunnels they use as roads.
With this in mind, allow yourself to get lost, chat with local people, and enjoy delicious meals from one of the many street food stalls.
Guanajuato is a vibrant city with graceful churches, colorful houses, shady plazas, and a lively atmosphere.
If you're more of an adventurer and nature lover, definitely don't miss hiking the bluffs around El Cerro de La Bufa mountain.
22. The Copper Canyon
The Copper Canyon is a series that consists of 6 canyons set in northwestern Mexico. It's 4 times bigger than the well-known gem in the United States, the Grand Canyon.
To be precise, in some places it's more than a mile (1.6 km) deep, which is deeper than the "rival" from the U.S.
The incredible gorges were formed out of the volcanic mountains by nearby rivers. These rivers are now joined together forming the Río Fuerte – and at the end, they empty into the Gulf of California.
There's a documentary on Netflix called The Evolution of Us, where the Copper Canyon was characterized as one of the world's most extreme areas.
Its rim sits at an altitude of 8,200 ft (2,500 m) and is full of sheer drop-offs and rather rocky outcrops.
Even though its name would make you think different, the Copper Canyon wasn't mined for copper – at least not in big amounts. In fact, it predominantly held gold and silver.
The canyon got its name because of the reddish color of the canyon walls, which reminded of copper.
Here we're talking about a real treat for all nature lovers looking for adventures. If you're planning to go here, you should know that this isolated, stunning landscape is best experienced on foot.
Mexico's Copper Canyon is also known as home to one of the world's longest ziplines. You get 8,300 feet (2,530 m) long adventure called the Zip Rider; it runs nearly 1,300 feet (400 m) above the ground and you can reach an incredible speed of 83 mph (135 km/h)!
23. El Cuyo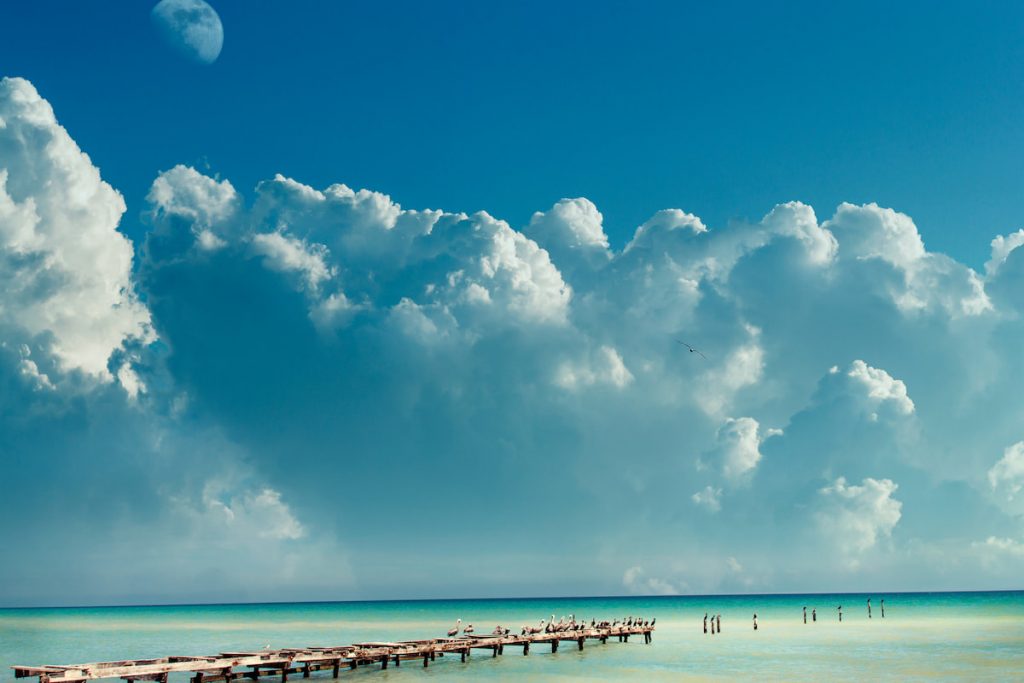 Looking for a relaxing vacation far away from rush and crowds?
El Cuyo is a true little oasis you'll find at the top of the Yucatan Peninsula. While there, you'll mostly going to spend time in the calming atmosphere with locals who simply enjoy their little piece of paradise.
It's not one of those crowded destinations where you'll always be in rush to catch up with everything that's been going on.
Restaurants and cafes are open only a couple of days per week. In fact, they're not even open all the time, because time is precious, so it wouldn't be good to spend it all on work.
Party animals should also look for another destination, especially if they want to spend most of their vacation in vibrant cities full of clubs and events.
El Cuyo is a beach town with a laid-back atmosphere, a paradise for nature lovers, and a perfect spot for kite surfers. There you'll find unspoiled nature, miles and miles of deserted sandy beaches, perfect wind for kite surfing, and wild nature.
24. Parras de la Fuente
Parras de la Fuente is another beautiful Pueblo Mágico in Mexico, also known as the cradle of wine in America. Casa Madero is the oldest winery on the continent, It was founded in 1957 right here, in Parras de la Fuente.
Throughout history, Casa Madero has turned into one of the wine cellars widely popular across Mexico, but with international exposure as well.
Wine isn't the only thing you'll be able to explore in Parras de la Fuente. This magical town also offers the amazing architectural beauty of its buildings and houses. It's a calming oasis set in the middle of the desert, with an average temperature of 86°F (30°C) throughout the entire year.
Parras has already become a well-known destination on the local tourist circuit as well as a more and more popular spot for international visitors. Get off the beaten tourist path and raise a glass of top-notch wine to all of your Mexican adventures!
25. Tamul Waterfall
You'll find the Tamul waterfall on the Gallinas River and see it rushing toward the nearby Santa María River in the northern part of the municipality of Aquismón (the Huasteca Potosina).
The Tamul waterfall is a real treat for nature lovers, hidden in a narrow canyon with high walls on its sides. It's 344 feet (105 m) high and nearly 985 feet (300 m) wide during the rainy season.
One of the best ways to explore is to book an active tour with some of the certified companies that operate in that area. For instance, if you go on a boat trip, you'll get a pleasant ride that will last around an hour and a half.
You'll sail across the incredibly clear water and will be able to see a wide variety of vegetation and rock formations.
You'll even get a chance to take a dip into freshwater when you come closer to the waterfall. You can also get on a large stone in the middle of the river to take some good pictures and selfies with the waterfall behind you.
26. Tonina Ruins
If you're an adventurer that likes to spend your vacay time exploring the hidden ruins, Mexico is definitely a perfect destination for you!
Tonina ruins are remains of the ancient Maya city, set in the middle of the rugged jungle of the Ocosingo Valley (Chiapas).
Tonina developed into a very powerful city somewhere between 600 and 800 AD, which is the Late Classic period. In fact, it was a central political spot of that era.
Tonina itself was especially known for the discovery of numerous carved monuments that record the important historical moments of the city. Plenty of their intriguing monuments are now exhibited in the museum you can find at the entrance to this archaeological site.
While there, you'll be able to wander around and explore the ruins at your own pace, since there are not many tourists. In other words, Tonina ruins are not one of those crowded destinations everyone visits because they're not so popular like Chichen Itza or some other ruins tourists often visit.
27. Izamal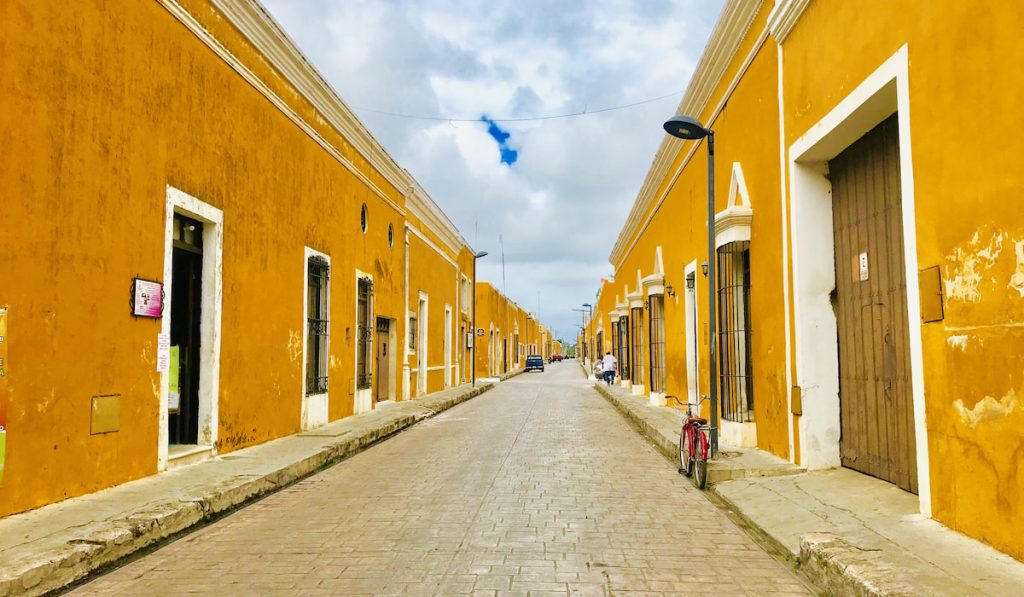 Izamal is also called Ciudad Amarilla which means Yellow City. That's because every building, house, shop, and church in this amazing city is painted yellow. When you're walking its streets, you don't have to do anything particular to get in a better mood – you can just walk the city's charming streets and let this warm, sunny tint cheer you up.
Before the Spanish arrived, this was a large Maya city, on par with Chichen Itza. That means, if you want to sense the spirit of the rich Mayan history, there are ancient ruins in the middle of the city you can explore.
Some Final Words
Mexico is a land of wonders, magical towns, amazingly beautiful nature, breathtaking views, stunning white-sand beaches, and so many more things you simply have to see during your trip.
It offers a wide variety of destinations where everyone can find something for themselves – from popular, vibrant touristy places to quiet sandy beaches with turquoise water or natural beauties such as waterfalls or hidden caves.
If you've already been there or you're yet to go, don't forget to share some of your own insights into his astonishing country. In other words – any unique gems in Mexico you'd like to add to this list?
Resources: